Teeming with helicopters, brutish thugs and tomahawk-waving Indians, this over-the-top thriller takes readers on a gripping, and rather gruesome, journey through the Northwoods of Michigan and Wisconsin. When Spirit Lake reservation tribal leader Senator Eddie "Little Turtle" Adcock turns up dead, rumors surface that the revered deceased may have stolen Indian artifacts. Officials from the Weyland Foundation, an organization dedicated to making the world a better place, believe the accusations are bunk, so they dispatch agent Link Anderson, a half-Blackfoot Indian who's appeared in Wilson's previous novels (Black Wolf, etc.). Soon after Link arrives at Spirit Lake, he learns of the Chicago crooks who have overrun the reservation and who terrorize the local people, and he realizes that the only way to clear Eddie's name is to bring down the mob. Tribal council member Jenifer Toussaint joins him in his quest and, eventually, a band of Manido-Ojibwe warriors makes a stand as well. Though the narrative abounds with bullet-zinging action and narrow escapes, its many graphic, stomach-turning scenes may put off even those accustomed to violent novels. Still, Wilson writes with authority, and his theme of Native-American exploitation echoes throughout.

Wilson joins the top ranks of military novelists.
--W.E.B. Griffin

When a respected U.S. Senator is found dead-killed by his own people, the Manido-Ojibwe tribe-a treaty prevents the FBI from investigating the crime. Enter Native American covert operative Link Anderson, who is determined to find the killer. But the facts surrounding the senator's grisly fate lead Link down a trail of deception and murder-where one ruthless man is prepared to destroy anyone who stands in his way.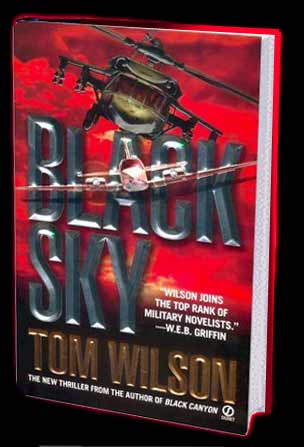 ORDER Black Sky
At Amazon.Com!